Produced and directed by Mina T. Son and Sara Newens, and distributed by First Run Features, Top Spin follows three American teenagers in their Olympian quests playing table tennis.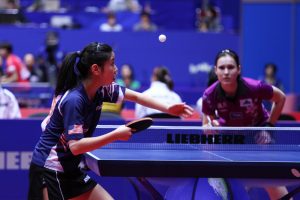 Ariel and Lilly are from northern California, and Michael is from New York.
We see and hear from the three competitors and their respective parents. We see and learn about the grueling training all must do to attain and sustain their competitive advantages. And we follow all three in their various tournaments.
What fascinated and bewildered me most was the style of play. I'd seen a few clips of professional table tennis and noted that the players were each very far away from table's edge. These players were very close. That shorter distance means a much faster play—potentially overwhelming to the eye.
It doesn't matter the subject—strange or familiar—when a film effectively tells a story, we enter that world. Top Spin is no exception. Quickly, after film's start, we are rooting for each of these young people.
I'll be looking for some familiar faces at 2016's Olympics.
http://www.topspinmovie.com/
http://firstrunfeatures.com/topspin.html