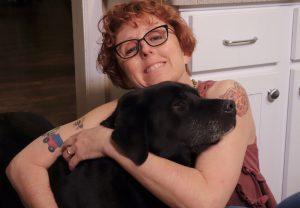 "Then I got to sit on stage, where they bring the dogs to you. None of the dogs took to me at all. I called every dog. Then I called Boothe. Boothe looked up, I looked at him, and he ran to me. And that's when everything started to get a lot better." Veteran Marine
Although the idea is simple, it is driven by compassion and empathy, and the film's impact is powerful—stories of wounded veterans who have the good fortune of receiving a service dog.
Josh Aronson's To Be of Service follows several veterans as they go through processes of receiving, bonding, living, and most significantly, healing with a service dog. Their wounds are both physical and psychological, and it is the emotional wounding that is so restrictive of living a fulfilling life. The well trained dogs play a crucial role in mitigating the painful impact of their wounds, and in bringing a loving spirit into their world.
Aronson shows the process of veterans finding the service dog that is right for them, covers the bonding process, and follows the pairs. We hear and see veterans speak about, and go about living their new-found emotional freedom. Aronson also interviews authorities who endorse the inestimable values of supporting veterans with service dogs.
Although there is mounting dramatic evidence of the value of service dogs for wounded veterans, the Veterans Administration has yet to cover the securing of service dogs for veterans. Meanwhile, 8,000 veterans a year commit suicide.
Here are a few resources:
• "A Service Dog is More Than a Vest" by Canine Companions for Independence
• "Understanding a Veteran with PTSD" from Maryville University, St. Louis, Missouri
To Be of Service is a First Run Features release.
(Pictured: Sylvia Bowersox and Timothy, on the set of 'To Be of Service'. Photo by Josh Aronson)