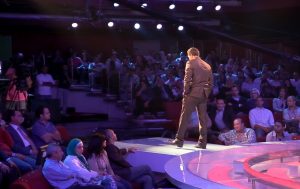 Back in the old days, when Jon Stewart was hosting 'The Daily Show,' he had a guest on named Bassem Youssef who was introduced as 'Egypt's Jon Stewart.' Even with my cursory—to be generous to yours truly—knowledge of Middle East politics, religion, and culture, I had a bad feeling about this.
It's about authoritarian leadership. Like diarrhea and smart-phone addiction, us humans are vulnerable to this ilk of leadership. Back in the Jurassic period, Erich Seligmann Fromm wrote about it in the tragically ignored Escape From Freedom.
Fast forward to the 21th century. Sara Taksler made a movie about Youssef's Egyptian show he entitled 'The Show.' She tells two stories in her film, Tickling Giants. The first is about Youssef who was so inspired by Jon Stewart's brand of political satire that he left his surgical practice and emulated 'The Daily Show' for the people of his homeland.
The other story Taksler covers is that of Egypt's recent political history focusing on the country's dalliance with freedom of speech. The brief affair's inevitable end led to Youssef and family's departure from Egypt, and immigration to the United States.
Tickling Giants is well produced and thoroughly engaging. Those two cinematic virtues are not the only reasons to make sure you see the film. Us people of the United States of America are emulating Egypt's struggle with this quaint idea of freedom of expression.
Tickling Giants is available directly from the film's website here, or on iTunes, etc.