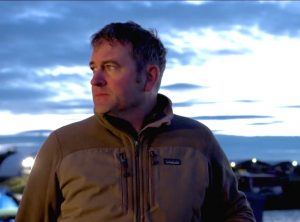 "Something's happening to me. I'm beginning to feel things again. It's unsettling. This is why and how I got on that plane 55 days into recovery—despite my crippling fear. The wild out here feeds the wild in me, is the wild in me. The wild in me is eternal, that thing untainted, pure. This connection to the wild is the connection to the Source."
Mark Titus, Director
Alaska's Bristol Bay is the only fully natural salmon run left on planet Earth. The Bay is under extreme threat from mining corporations. Mark Titus—along with countless numbers of people and organizations—wants to save the Bay. The current political environment of the United States is simple: Dam(n) the natural world.
In The Wild writer/producer/director Titus tells two stories: a deeply personal narrative of loss, addiction, and redemption; and stories about the Bay, its virtues, the people who derive meaningful lives from the Bay, and those who would damage the Bay. Titus tells his stories with a quiet yet deep passion, and as we are watching and hearing the substance of his film unfold, we find ourselves mirroring that passion.
I have seen my fair share of environmental documentaries, and will likely see many more. The Wild is up there with the best, most powerful documentary films. It was selected by 12 film festivals, and received 6 festival awards.
Titus is taking his show on the road. The Wild begins a 50-city road tour on April 22. Stay in touch with the film's website to find out the tour's cities and states.
(Pctured: Mark Titus)