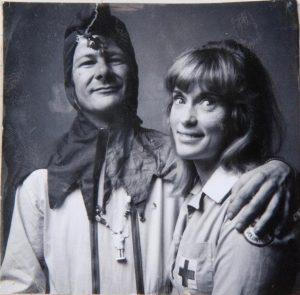 Although I regret not having seen The Wavy Gravy Movie when it was released in 2009, I am grateful and excited to have seen this thoroughly gratifying Kino Lorber 10th Anniversary Edition with its  added 2019 interview of Wavy Gravy and wife Johanara Romney—and with over 55 minutes of additional scenes.
This review is for those who have not seen the original film as well as those who would likely be moved by the interview and additional scenes.
For those few who never heard of Wavy Gravy, he was born in 1936, and named Hugh Nanton Romney. Emerging out of the 1960s cultural revolutions, the core of Mr. Gravy's activities became performing, teaching and organizing. He is beloved for his deeply altruistic character, and honored for founding or co-founding several organizations including Seva Foundation and Camp Winnarainbow.
With The Wavy Gravy Movie director Michelle Esrick has produced the definitive cinematic profile of Wavy Gravy. She covers both the man, his times—and skillfully takes her audience through his transformation from small boy to mystic clown who, at 83, is still going strong—as is his 52 year marriage with Johanara.
Wavy Gravy and this well-reviewed film about him are both deeply inspiring and utterly fascinating.
The film is available from Kino Lorber.