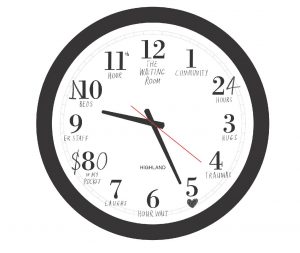 "Not everyone has a place to go. And there are often times where I don't want to send a patient out into the cold with bad lung problems and no access to get medicines that night. I can't just send him to the street. So, there's no movement on that bed, and nobody in the waiting room can use that bed until that patient has a place to go. If I was a patient in the waiting room, knowing that there's somebody who is completely stable, and didn't need to be admitted, but there's nowhere else to go, and I was stuck waiting for that bed, I think I'd be pretty darn frustrated."
Emergency Department Physician
Peter Nicks' The Waiting Room is another indictment of the United States' fractured and economically failed healthcare system. The documentary follows a few doctors, staff, and patients during the night shift of a public metropolitan hospital that serves a largely uninsured patient population. Viewers see the pain, struggles, frustration, fears and hopes of all the people in this one night.
The film is also a testimony to the care, compassion and heroism of the staff and caregivers who work 24 hours, 365 days a year dealing with human life and death. I was most touched by a father who had brought his 10-year-old daughter to the ED suffering intense pain from an apparent throat infection. The father, as I would be, is in his own pain and fear for his child's wellbeing, and is holding back tears of fear and care.
Distributed by Bullfrog Films, The Waiting Room is a very well-funded film, and the results of that support confirms the film's powerful impacts on its viewers.