Confession: When I picked up this disc about a New York Jewish deli I figured I would cover it simply because of my affection for the cuisine of my east coast upbringing.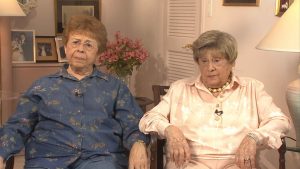 What I did not expect, and what I celebrate is how much fun this film is in telling the story of four New York generations creating and expanding what has become a Manhattan gastronomical institution of international renown.
Located in the Lower East Side, 'Russ and Daughters' was founded in 1914 by Jewish immigrant Joel Russ. He bucked gender-role tradition by putting his three daughters into his smoked fish business.
Starting with interviews of Ruth Bader Ginsburg, Maggie Gyllenhaal, and Morley Safer, filmmaker Julie Cohen tells the story of this family and their store through a unique form of narration—very long-time customers reading the script.
The two featured interviewees are Joel Russ's two surviving daughters who are retired in Pembroke Pines, Florida—totally entertaining.
"The Sturgeon Queens" is an utterly delightful film with a serious subtext about the American immigrant experience.
And, yes, I'm ready for the sitcom or a "Chef"-style 'dramedy' from Jon Favreau.
Suggestion: Watch "The Sturgeon Queens" before you dine. Your appetite will be whetted, you may enjoy your repast more intensely, and/or you may go for your favorite smoked fish.