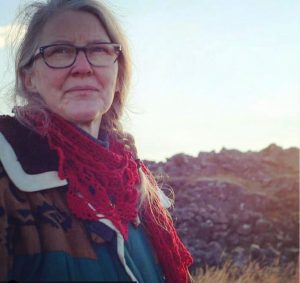 Note: To state the obvious, some readers of this review will accept the veracity of the stories told in this documentary film. Others, not so much. In any case, I encourage all readers to view this moving and endearing film.
Introduction: "When the Vikings, the first human settlers, arrived in Iceland during the 9th Century, they encountered a land in the making. The Earth quaked, volcanoes erupted, wind and sea carved the cliffs. Nature was alive and all powerful. And the land was full of spirit beings. Trolls, hidden people, sprites and elves lived in every river and waterfall, mountain and lava rock. The Vikings knew that the only way to survive here was to become friends with these spirits of the land.
"But when conflicts arose and the Vikings upset the spirits of the land, those who possessed Second Sight, called Seers, could intervene between the human and the spirit worlds. Seers could repair the wounds in nature that the humans had wrought. The humans and the beings of the land made a pact to work together. The humans would protect nature and the beings of the land would protect the humans. But, time passed and the humans broke the pact…"
We are in Reykjavík, Iceland. Our leader into this seemingly magical realm is Ragnhildur 'Ragga' Jónsdóttir. Ragga is a wife, mother, and born seer. She is one of a number of Icelanders who, to various extents, accept and live in the existential reality of unseen beings. Ragga is in frequent—if not constant—contact with these beings.
Whether or not one accepts this world, there is another way to understand Ragga's world: A reverence for nature.
Director Sara Dosa's The Seer and the Unseen follows Ragga during a particularly difficult challenge—the continued expansion of development of Iceland's sacred land, and the concomitant loss of the unseen. She is not alone. There are other Icelanders who accept the unseen in their lives, and share in the loss.
Lava fields of Iceland are being destroyed, fields that house the unseen. Ragga is, of course, in pain because of this loss. She and her many friends and followers—seen and unseen—are fighting to save these lava fields. We are with Ragga as she confronts these losses, and finds a measure of success.
The Seer and the Unseen is a touching and endearing film. Irrespective of the challenge most of us face in considering the phenomena of the unseen, I whole heartedly encourage readers to enter Ragga's world.
The film's music is by Tara Atkinson and Giosuè Greco.
(Photo of Ragnhildur 'Ragga' Jónsdóttir courtesy of 'The Seer and the Unseen')