Directed by Nicholas J. Polizzi, The Sacred Science follows a group of eight people suffering from a variety of maladies – some of which are life-threatening – on a thirty-day odyssey to the Amazon rainforest where they receive shaman-based treatments.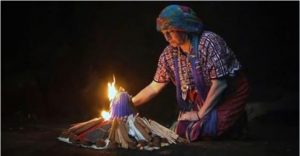 Their journey is to the Indigenous Healing Center of The Paititi Institute located in the upper Amazon basin of Peru. There they are attended to by shamans along with occasional visits from physicians – and a film crew.
Polizzi follows these brave Westerners as they make themselves vulnerable to the very unfamiliar world of shamanistic practices – and the Amazon jungle. Each of the eight journeyers lives the month in an isolated hut, and participates in group meetings and rituals. In addition to the participants, we hear from the center's staff and learn a bit about shamanistic practices. We also see the shamans walking through the jungle, seeking specific plants, and preparing their remedies.
The Sacred Science is an important film to see whether or not you have seen films and television shows about shamanism. I was deeply moved by the courageous spirit of the participants, and I wasn't surprised to learn that some remained at the center beyond the formal thirty-day program. Additionally, I'm passionate about natural approaches to healing and health, and this film demonstrates the power of this kind of approach.
http://www.thesacredscience.com/
http://www.paititi-institute.org