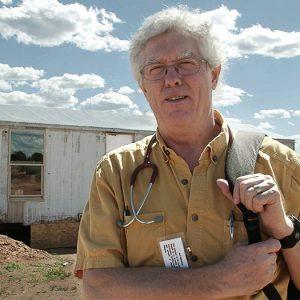 "This community, it's so much a part of who I am. I can't separate myself from it. I could've done a lot of different things besides medicine. I could make a lot of money, live wherever I want. But, I can't turn my back."
Matt Probst, PA
The Providers documents the lives of three healthcare providers who serve the people in rural areas around the city of Las Vegas, New Mexico. In addition to being a physician assistant, Matt Probst is a leader—the medical director of El Centro Family Health, and inspires a team of healthcare practitioners who serve a rural community of people who would otherwise lack access.
Producers/directors/cinematographers Laura Green and Anna Moot-Levin follow the work of physician assistant Probst, family physician Dr. Leslie Hayes, and nurse practitioner Chris Ruge who work under Echo Care. Alcohol and drug addiction rank high in the maladies the providers treat. Funding is an ongoing struggle. Echo Care is primarily funded by insurance companies, unnamed in the film.
Deeply touching from beginning to end, The Providers tells stories of triumph and tragedy, of heroes and their travails. To state the obvious, the community covered in this film is emblematic of communities throughout the United States. How many communities have experienced the grace of the providers featured in this film?
Instagram 
(Pictured: Chris Ruge)