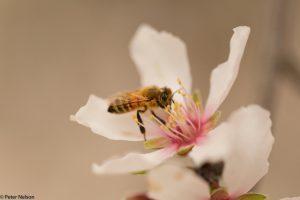 "One out of every three bites of food we put in our mouths comes from honey bee pollination." Dave Hackenberg, Beekeeper, Hackenberg Apiaries
I have seen my fair share of documentary films about agriculture and agribusiness—including films about bees. Peter Nelson's The Pollinators is the most well-produced, comprehensive film about bees I have seen to date.
In addition to telling the story of our mass killing of life-giving bees, Nelson covers the hidden world of bee transporters—those who drive hundreds of bee hives across the United States to pollinate crops. These transporters are on the front line, unhappily witnessing this tragic loss.
Nelson interviews transporters, scientists, farmers, chefs, economists and other authorities, putting the pieces of the puzzle together, forming the answer to the question: Why are our bees dying?
The film also focuses on the positive. Nelson's inspiring interviewees are passionately dedicated to ending the loss of bees. The film does not stop with the subject of bees, though. We hear from a growing number farmers working to transform American agriculture.
The film's website contains a crucial 'Take Action' page with links to more than 40 resources about bees and agriculture.
There are many fronts in humanity's destruction of the natural world. It seems as if people are not getting this particular message: bees go, we go. The Pollinators gets this message across to any and all who will sit down, look, and listen.