I put myself in your shoes. You may have heard the name, 'Sophie Tucker,' you may know a little about her—perhaps no more than she was a celebrated entertainer from a bygone era.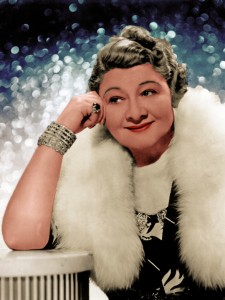 I was one of those who knew only her name when the film's DVD appeared before my eyes and was then placed in my Blu-ray player's tray. I thought to myself, 'Why was this film produced? Why am I going to watch it?'
The film addresses those questions immediately with a few lines of text that highlight Tucker's accomplishments. Although the lines provide an understandable rationale, it is the film's presentation of the inspiring Sophie Tucker, of a life long-lived and well-lived that so deeply impressed me—especially her overwhelming spirit of love and generosity.
The Outrageous Sophie Tucker was produced by Susan Ecker and Lloyd Ecker, and directed by William Gazecki .
If budget were no object I'd immediately buy several dozen copies to share with my friends and neighbors.
http://www.sophietucker.com/
http://www.williamgazecki.com/
Opens in theaters on July 24, 2015