Ah! That makes sense. I did not want Oeke Hoogendijk's "The New Rijksmuseum" to end. So, after watching this two-hour and eleven-minute documentary about the renovation of Amsterdam's Rijksmuseum, I went straight to the film's website and learned it was originally presented as a four-hour piece.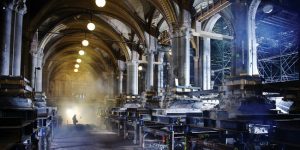 The Rijksmuseum was founded in 1800, and moved to its current location in 1885. The much-needed renovation began in 2003, and was completed in 2013.
Hoogendijk captured the multidimensional challenges of recreating this massive public structure with its massive collection. She covers the bureaucrats, designers, curators, restorers, bicyclists (yes, bicyclists), public meetings, and one caretaker who lived at the museum during the ten-year project.
Hoogendijk's film draws us into the many debates and setbacks during the renovation. I became passionate about what colors to paint the galleries' walls. I much prefer darker colors because they stimulate the eyes to let in more light and see a work of art with more depth and clarity. I was certain I would lose that one, but I won!
I will not, however, reveal the result of the bicyclists' efforts to maintain their riding path through the museum.
"The New Rijksmuseum" is a fun and fascinating film. I viewed an advance screener which doesn't have special features. So, if I can't see that four-hour version, I will see the commercial DVD with more… museum.