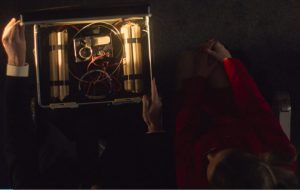 "The cult of Cooper started before the plane even landed."
Interviewee
In November, 1971, a gentleman who goes (or went by) the name 'DB Cooper' hijacked a Boeing 727 airliner out of Portland, Oregon. He announced his intention as the plane was taking off, claiming he had a bomb, and then displaying it to a 'stewardess' (the old, sexist term for 'flight attendant') Tina Mucklow who was the one person Cooper wanted on his hijacking odyssey.
He directed the pilots to land at another city, required that the passengers deplane, and demanded $200,000 which was a lot of money in those days. After he secured his ransom, he directed the plane to take off to another destination, but in the middle of that flight he opened the plane's rear exit and parachuted out in the middle of a rainy night at 10,000 feet. He was never found, though paper currency has been found and determined to be part of the ransom.
'DB Cooper' became an instant folk hero. His was the only hijacking in United States history that was never solved.
Written and directed by John Dower, The Mystery of DB Cooper tells the story of four people who claim they knew Cooper, or were directly related to him. In between their interviews we hear from US government agents, Tina Mucklow, and from members of the 'cult.' By film's end we have four individuals who swear to their dying day that they know and identify who 'DB Cooper' is or was.
In addition to its aficionados, the cult of Cooper includes an annual 'DB Cooper Festival' at the Ariel, Washington Tavern and Store. And now Dower has contributed to the Cooper cult with this expertly produced, confounding, jaw-dropping HBO documentary.
The Mystery of DB Cooper premiers on HBO and HBO Max on November 25, 2020.
IMDB: https://www.imdb.com/title/tt8694594/reference