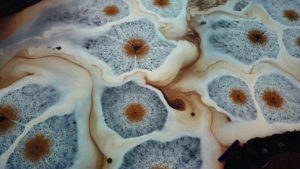 The mill in David Craig's well-produced environmental documentary is in Pictou County, Nova Scotia, Canada. The multinational company has been manufacturing paper products there—mostly tissue paper and paper towels—since the 1960s. Within Pictou County is the Mi'kmaq fishing community of Pictou Landing.
For more than six decades Northern Pulp Nova Scotia Corp. has been pumping a toxic pulp effluent into a body of water called Boat Harbour which is adjacent to the Mi'kmaq indigenous community. The company has been mandated to find another place to pump its effluent, and has proposed a pipe to the sensitive fishing grounds of the Northumberland Strait.
The fishing community, of course, would be devastated by this proposed action. Mill officials say without this action, they will shut down the mill, devastating the region's economy.
The Mill covers this conflict between the fishing community—both indigenous and non-indigenous—and the mill workers who live in the same region. The people of Pictou County are divided, each group has legitimate concerns. The livelihood of thousands of people are threatened, the livelihood of the fishing community is threatened—and the already compromised environment would remain polluted, or become more so. Craig makes sure that each of the two sides of this dilemma are thoroughly represented in his film.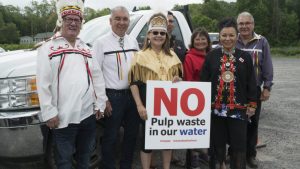 "The Mill" features high production values, and is a living documentary film. That is, the story is still unfolding as I type these words, and the film's comprehensive website includes Ongoing Updates.
By virtue of both the film's topic and the excellence with which this story is told, "The Mill" is a must-see environmental film telling a micro-story emblematic of high-stakes environmental dilemmas found around the world.
(Effluent photo courtesy of 'The Mill')
(Mi'kmaq Chiefs photo courtesy of K. Night)