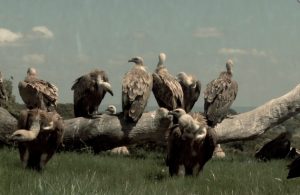 'What humans have done to the Earth is no less than a massacre of the other species.'
U.N. Convention on Biodiversity
'The United Nations has declared 2020 – 2030 to be the decade of Ecological Restoration. This work is essential for mitigating climate change and protecting biodiversity.'
Along the Spanish/Portuguese border is a section of land called 'Campanarios de Azaba Nature Reserve' which consists of 34,800 acres of woods and agriculture. A growing community of people are working to ecologically restore this land. This project is in a state of non-stop becoming. The project began as 2,800 acres, and over the years large ranches have amended 32,000 acres to the project. The acreage will likely continue to expand. This land is the largest remaining tract of wild nature in western Europe.
Greta Schiller's The Land of Azaba introduces viewers to this project, its people, along with the flora and fauna they are caring for. We spend time in the fields hearing from project staff and supporters, and seeing many animals such as horses, pigs, deer, rabbits and much more running free. But, these aren't ordinary animals. The project made sure that they have the most ancient version of these species available. One of the primary values driving the project is "humans working to live in harmony with other species."
As of the film's release pray species were not included in the project, but plans were to add them soon. Indeed, near the end of the film we see rabbits being released. Given that, it is likely that pray species have already been added.
The Land of Azaba is another well-produced film about the beauty, power, and necessity of recreating our world in a more compassionate and sustainable manner. The people and their project are noble and inspiring.
The Land of Azaba is a Kino Lorber release.