If you were trolling the art house scene back in 1996, you may have caught a charming film from The People's Republic of China entitled The King of Masks.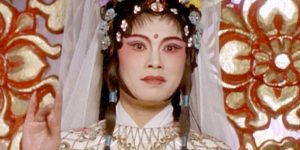 The film tells the story of an aging street performer known as the King of Masks for his mastery of Sichuan Change Art—or biàn liǎn in Chinese. A solitary fella, he travels from town-to-town in his small wooden boat performing his special quick-change skill with cloth masks.
He also seeks a young male to whom he may pass on his secret talent, and bemoans the small likelihood of that discovery. But this is a movie, so that likelihood becomes huge—someone offers him a young boy for sale, and after a brief negotiation he purchases this young boy.
Directed by Tian-Ming Wu, the film transports the viewer to a 19th or early 20th century China, and takes us on a dramatic, yet fairytale story of love, discovery, and transformation. The child, portrayed by Renying Zhou, gives an unforgettable astounding performance.
The King of Masks was initially released by Samuel Goldwyn Films, and will be distributed in North America by First Run Features, beginning on April 14, 2015.
http://firstrunfeatures.com/