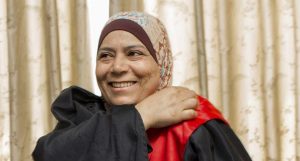 Directed by veteran filmmaker Erika Cohn, The Judge tells the story of Kholoud Al-Faqih, the first woman judge to be appointed to Middle East's Shari'a (Islamic law) civil courts. Living and working in Palestine, lawyer Kholoud uses her skills, passion, and heart to break a misogynist glass ceiling.
Cohn brings her camera to Palestine, into the offices, courts, homes, and street scenes of this beleaguered yet vital and progressing country. Kholoud's presence is tough and confident in deliberating cases of divorce, abuse, rape, children's custody, and polygamy—husbands are legally allowed to have up to four wives. She is clearly taking on the inevitable gender controversies associated with a feminist stance, and pays the inevitable price, yet eventually triumphs.
The Judge is more than a dramatic story, though. After a very few minutes we are in Palestine, seeing, hearing, living vicariously in this time and place of old and new, of culture clashes, salivating at the foods we see—and almost smell—cooking. Omar Fadel's music perfectly inhabits Cohn's film.
This is a film that engages its viewers immediately, and sustains that connection throughout. I will see this film again.
The Judge is available from Amazon Prime.
Coda: The film's website provides a link to the film's press kit. I encourage viewers to download the press kit and read Erika Cohn's powerful 'Director's Statement.'