Written and directed by Nadav Schirman, and based on Mosab Hassan Yousef's memoir, Son of Hamas, The Green Prince tells the powerful, improbable story of two sworn enemies discovering common ground, working together, and forming a life-long bond.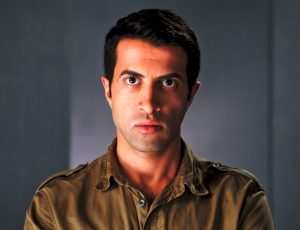 Yousef is the son of a major Hamas leader. He was raised in the Palestinian side of the conflict with Israel.
Schirman's film tells the story of how Yousef was captured by Israeli forces and placed in the hands of Shin Bet agent Gonen Ben Yitzhak who successfully 'recruited' him as an Israeli mole in the Palestinian territory. Yousef's primary focus was on Hamas activities—including those of his father.
This spy/mole relationship lasted ten years, and ended when both men became dissatisfied with Shin Bet policies and actions.
The story is told via two separate interviews: Yitzhak and Yousef. Schirman provides interstitial visual context.
There are few films in our lives that haunt us. The Green Prince is one of those films. For those unfamiliar with this story, like yours truly, it is a shocking, thrilling, unbelievable experience to see and hear it unfold.
The Green Prince won the audience awards for Best Documentary at the 2014 Sundance Film Festival and the 2014 Moscow International Film Festival. It is available directly from its distributor, Music Box Films, as well as most major on-demand sources including Netflix which is how I accidentally found the film.