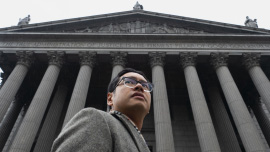 "All I've ever known how to do is fight. And so we just keep fighting, and even though we're tired, and know it's exhausting and maddening, it's what we do."
ACLU Staff Attorney
Directed by Eli B. Despres, Josh Kriegman, Elyse Steinber, The Fight introduces the work of the American Civil Liberties Union. The making of this standard bearing documentary film marks the first time that the organization has allowed a film crew into their national headquarters.
There are five issues covered:
Transgender Military Ban
Family Separation of Immigrants
Abortion Access
The Census Citizen Question
Middle East Travel Ban–read Muslim travel ban
The film follows staff attorneys as they plan for and argue in district courts and the Republican dominated Supreme Court on behalf of these crucial civil rights issues. As always, there are winners and losers.
Regarding the separation of children from their immigrant families, as of production date, 1,300 hundred children remained separated from their parents. I doubt if we will ever know the total number of children and parents traumatized by this inhumane policy. Whatever that number, just the idea of even one family's separation is horrifying. I sometimes wonder how many domestic terrorists we are birthing.
The film also touches on the ACLU's controversial defense of self-proclaimed Nazis, white nationalists, etc.–the perpetual irony of Jews defending Nazi's freedom of speech.
The power of The Fight is its tight focus on the attorneys' struggles to make a difference in the highest stakes issues of the day. The attorney arguing against the proposed requirement that the decennial Census include the question "Are you a citizen of the United States of America?" had never argued before the Court before. We empathize with his frayed nerves.
There will always be attacks on civil liberties in the United States of America. As long as we have the ACLU up and running, we will have a champion to counter those attacks.
The Fight deserves as large an audience as possible in order to inspire more of us to be a part of the fight.
A Magnolia Pictures release, The Fight opens July 31, in theaters and on-demand, and will be screening as a part of San Francisco's Roxie Virtual Cinema. Here is the link: https://www.roxie.com/the-fight/
Facebook: https://www.facebook.com/FightTheMovie
(Pictured: Dale Ho, courtesy of Magnolia Pictures)