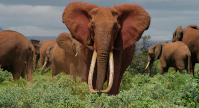 Filmed in Kenya, Africa, at the Tsavo East National Park and the Greater Amboseli Tsavo Ecosystem, The Elephant Queen follows a herd of elephants through a season of drought and rain, births and deaths. Athena, the story's Queen, is the 50-year-old sole leader of the herd.
Directed by the highly accomplished and lauded team of Victoria Stone and Mark Deeble, the film tells Athena's story with light-hearted humor, yet do not exclude the tragedies embedded in the story. The filmmakers' 25 years of living in the East African bush prepared the two to film this epic odyssey.
Chiwetel Ejiofor narrates the story, and Alex Heffes provides the music.
An Apple+ TV release, The Elephant Queen is another reminder of humanity's neglect of the natural world, and of the nobility of the natural world. The film tells a story everyone should see.
The film is available in at least 46 languages, and features AD (Audio Description) for the blind or those with low vision.