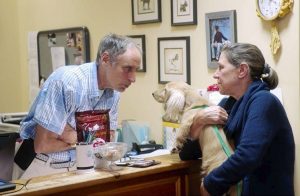 Cindy Meehl's The Dog Doc is both a profile of integrative medicine veterinarian Marty Goldstein and an affirmation of the healing power integrative medicine provides—to both human and non-human animals.
When Goldstein entered veterinary practice he was well educated and skilled, yet he was in chronic poor health. He found his way to alternative medicine supplements and practices, recovered good health, and applied what he learned and experienced to his treatment of dogs and cats.
Meehl covers Goldstein's and staff's work at the Smith Ridge Veterinary Center in South Salem, New York, the clinic Goldstein established decades ago. We follow a few dogs and their human companions through diagnosis and treatment for cancers and other life threatening maladies. Throughout the film Goldstein and staff talk about this philosophy of practice as well the unique approaches and techniques he provides his patients.
The stories Meehl covers are inspiring and emotional—for the clinic's staff, its customers, and us viewers. The Dog Doc makes a strong case for revolutionizing veterinary practices in order to achieve more and better outcomes in veterinary care.
Goldstein has since sold his clinic, and now devotes his work to promoting and advancing integrative health care for non-human animals—of course, us human animals would also benefit from this approach to healing and health.
The Dog Doc was selected for at least 23 film festivals, and is a crucial documentary film for every animal lover.
Cindy Meehl is founder of Cedar Creek Productions.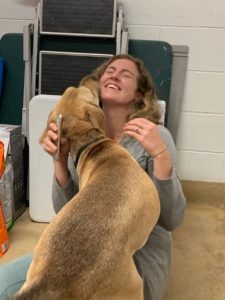 Facebook
Watch