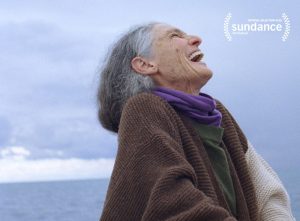 Benedetta Barzini became a star fashion model in the 1960s. In the 1970s she identified herself as a Marxist, became a member of the Italian Communist Party, as well as a radical feminist organizer, and taught at Polytechnic University of Milan and New Academy of Fine Arts.
Barzini birthed four children one of whom, Beniamino Barrese, became a photographer and cinematographer. The two enjoyed a positive mother-son relationship—until Barrese's filming of The Disappearance of My Mother.
At the age of 75, the mother is ready to leave everyone and everything behind—to obliterate all labels and images of who she is, of who people think she is. She wants to 'disappear.' Her son is not ready for his mother to disappear. The two make a tenuous compromise: He will make a documentary of his mother's 'disappearance'—and, presumably, she would disappear at film's end.
In 'The Disappearance of My Mother' Barrese films and speaks with his mother as she lives her daily life, and goes through what has become the detritus of her sensational life. Their dialogs are spiked with intense conflicts of values and intentions, yet their subtext is filled with love for one another, as well as the son's implicit fear of loss.
We find ourselves understanding both the bond and the chasm between Barzini and Barrese—and wishing Barzini would quit smoking which is not likely giving that she probably has been smoking her whole adult life.
Aaron Cupples' gorgeous music elegantly surrounds and inhabits this encounter of wills.
A Kino Lorber release, 'The Disappearance of My Mother' is a moving documentary film, one which I enthusiastically suggest you see.