Rich in imagery, idea, story, character, Russian art, and 20th Century Soviet history, like the masterpieces it covers The Desert of Forbidden Art is a masterpiece of documentary filmmaking.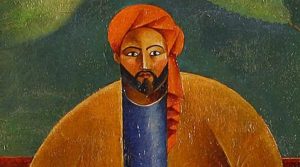 Written, produced, and directed by Amanda Pope and Tchavdar Georgiev, the film tells the story of Russian artist Igor Savitsky who rescued 40,000 works of art by fellow Russian artists. The artists and their work were victims of 20th century Soviet fascism.
Savitsky founded the Nukus Museum of Art or, officially, The Savitsky Karalkapakstan Art Museum. In short, the Nukus.
Savitsky risked his life over a period of many years of collecting and curating. In the film's short 80 minutes running time viewers are treated to an exhibition of beautiful, dramatic works of art, along with stories of the artists and the fate of their work.
From the film's official synopsis: "Described as 'one of the most remarkable collections of 20th century Russian art' and located in one of the world's poorest regions, today these paintings are worth millions, a lucrative target for Islamic fundamentalists, corrupt bureaucrats and art profiteers. The collection remains as endangered as when Savitsky first created it, posing the question whose responsibility is it to preserve this cultural treasure."
Ben Kingsley, Sally Field and Ed Asner are among the performers who voice the diaries and letters of Savitsky and of the artists.
This is one of those rare films I would love to have seen twice or three times its current total running time.
IMDB does not list a distributor of the film, but the film is available from its website: http://desertofforbiddenart.com/
Here is the museum's site: http://www.savitskycollection.org/