I did not have any relationship whatsoever with ballet until First Run Features began sharing ballet documentaries with me for review. I've been fascinated and amazed by what I've seen and learned. And, of course, I would not have seen Ron Steinman's The Dance Goodbye about iconic prima ballerina and teacher Merrill Ashley, let alone reviewed the film without the introductions First Run have provided.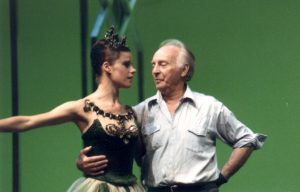 The Dance Goodbye uses the Ashley's retirement from dancing as a springboard to provide a brief biography of her career in ballet, her responses to leaving the passion of her life, and her emergence as an internationally renowned teacher of master classes.
Although Ashley's life and work are in a highly refined artistic discipline and its rarefied world, her thoughts and feelings are common to all who lose their life-long passion to the inevitable circumstances of life. Any and all who have any measure of empathy will respond with their own pain as Ashley shares hers. Ashley's story remind us of the inevitable loss we all face in our lives, in this realm of the finite.
But, this film is not about loss. It is about a beautiful soul who has made, with great personal sacrifice, an immeasurable contribution of grace and beauty to our world. A hint of Ashley's impact is found in the many clips of her performances in studio and on stage. They are nothing less than thrilling and inspiring.
http://firstrunfeatures.com/dancegoodbye.html