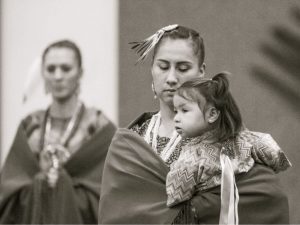 "Ancient native prophecies say: 'When the Eagle of the North and the Condor of the South fly together, Indigenous peoples will unite the human family'".
Sophie Guerra's and Clément Guerra's The Eagle & the Condor follows four Indigenous leaders in their visits to the United States and Canada (the Eagle's North) and to Ecuador and Peru, (the Condor's South). The four—Casey Camp-Horinek, Melina Laboucan-Massimo, Yudith Nieto, Bryan Parras—are creating bonds and connections with Indigenous peoples in efforts to end the ecocide of Earth driven by the extraction and burning of fossil fuels. The goal is to ensure social justice as our ecosphere is healed. (Information about each of the four climate justice leaders is below.)
We are disturbed, of course, as we see the human harms and environmental damages perpetrated by the global fossil fuel industry, and inspired by the noble intentions and powerful actions of these defenders of Earth's natural world.
This is a rare environmental film that left me with a glimmer of hope in a seemingly hopeless world. I would love the filmmakers to consider a docu-series about these international movements for environmental healing and social justice.
The Condor & the Eagle has been screened by more than 50 renown film festivals, has won at least 12 festival prizes, and was nominated in at least six additional film festivals.
If you are as inspired by this film as yours truly, I heartily encourage you to explore the film's website. Docuseries or not, there will be many positive reverberations as the film is seen by more and more people.
The Four Stars
Casey Camp-Horinek: Hereditary Drumkeeper of the Womens' Scalp Dance Society of the Ponca Nation of Oklahoma is a longtime activist, environmentalist, actress, and published author. Because of Casey's work the Ponca Nation is the first Tribe in the State of Oklahoma to adopt the Rights of Nature Statute, and to pass a moratorium on Fracking on Tribal Lands. Casey was also instrumental in the drafting, and adoption of the first ever International Indigenous Women's Treaty protecting the Rights of Nature. Casey often collaborates with I.E.N, Movement Rights and W.E.C.A.N.
Melina Laboucan-Massimo: Melina is Lubicon Cree from Northern Alberta. She has worked on social, environmental and climate justice issues for the past 15 years. Currently a Fellow at the David Suzuki Foundation, Melina's research is focused on Climate Change, Indigenous Knowledge and Renewable Energy. Melina holds a Masters degree in Indigenous Governance at the University of Victoria with a focus on Renewable Energy in First Nation communities. As a part of her Masters thesis Melina completed a 20.8 kW solar installation in her home community of Little Buffalo in the heart of the tar sands which powers the health centre. Melina is often collaborating with NDN, Indigenous Climate Action, Seeding Sovereignty and the Indigenous Clean Energy Network.
Yudith Nieto: Yudith is a queer Mexican-American artist, interpreter, and organizer, enjoying spending time in the bayous of Louisiana working on projects like CRY YOU ONE, Amor y Solidaridad, a solidarity house in support of undocumented Transwomen, and recently BanchaLenguas, a Language Justice interpreters collective. Currently, she is part of the core leadership circle for Another Gulf Is Possible, and a youth organizer with Los Jardines Institute. For over five years, Yudith has been fighting for the rights of her fenceline community in Manchester, Houston in collaboration with T.E.J.A.S, and last year was named one of Grist.org 50 Fixers of 2018.
Bryan Parras: Bryan is a co-founder of Texas Environmental Justice Advocacy Services (t.e.j.a.s.) and the Sierra Club of Texas 'Beyond Dirty Fuels' campaign. A longtime environmental justice advocate based in Houston, Texas, Bryan co-founded the Librotraficante movement, serves as an Advisor to the Gulf Coast Fund, and sits on the board of the Environmental Support Center. Bryan was recently awarded a Gulf Coast Fellowship, and has been working to help organizations use media for education, organizing and advocacy.
Click HERE to find the film—scroll down to see all the options