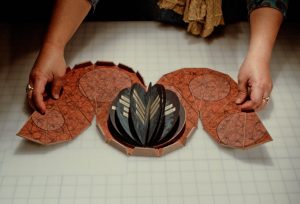 the Book Makers is prolific filmmaker James Kennard's first feature documentary, and he has hit the ball out of the park. The film covers a world I had never head of until this film: the art of books. Although it does not speak well of yours truly's imagination or intelligence, I never even conceived that there is an art to the physical aspect of making books. Suffice it to say, I am fully informed now.
The film features book makers at work, speaking about and showing their art which is awe inspiring. We also take field trips to the annual Codex exhibition of book art in Richmond, California, and the Internet Archive in San Francisco—together those two experiences are also awe inspiring experiences of organizations and people who treasure words, images, books and the art associated with all three.
Although the documentary is less than an hour running time, I experienced the richness, care and love of a much longer film in this deceptively short hour. As soon as the film is available on disc, I will grab one and share this jaw-dropping experience with my near and dear ones.
Like the many books we see in the film, the Book Makers is expertly produced. I enthusiastically recommend the film to everyone, including children.
AND, the Book Makers will be easy and free to see!
The film is playing at the 19th San Francisco Documentary Film Festival through September 20th, and currently available to stream HERE. Next in the Bay Area is DocLands October 8-18—at which point in October the film can be seen on local public broadcasting stations (PBS) nationwide, presented by American Public Television. Additionally, there will be a 'focus event' on the WORLD channel Tuesday October 27, at 4 pm and 11pm PT, and on Wednesday October 28, at 7 am PT.
(Pictured: Book by Artist Julie Chen)