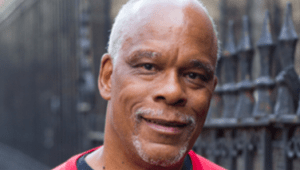 "Relations between police and Negroes across the country are getting worse. One of the cities most troubled by animosity between police and Negroes is Oakland, California." 1960s black-and-white network news report
Donald J. Trump and his Republican cohorts have ripped off the thin, translucent scab that covers America's congenital racism. Although Stanley Nelson's The Black Panthers: Vanguard of the Revolution tells a five-decade old story, its current relevance screams.
Nelson introduces his history of the Black Panther Party with a montage of black-and-white 1960s clips of brutal, oppressive police practices against African Americans. The behaviors presented in each clip can be seen and heard in living color on our national news—on practically a daily basis.
The film follows the rise and fall of the Party, identifying endogenous and exogenous factors in its demise the largest of which seems to be J. Edgar Hoover's COINTELPRO, a 'counter intelligence program' directed against 'Black Nationalist Hate Groups.' The program's stated purpose was to 'expose, disrupt, misdirect, or otherwise neutralize the activities of black nationalists.' The program was, of course, prima facie illegal—and successful in planting seeds of the Party's destruction.
The Black Panthers: Vanguard of the Revolution explores a crucially important, woefully overlooked chapter in the history of racism in the United States of America.
(Pictured: Director Stanley Nelson)