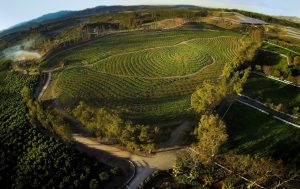 John and Molly Chester decided to follow in the footsteps of Eddie Albert and Eva Gabor who as Green Acres' Oliver Wendell and Lisa Douglas left the Big City to a farm in 'Hooterville.' Unlike this fictional, six-season 1960s sitcom, the Chester's left their real-life Los Angeles jobs for a 200+ acres plot of land 40 miles north of the Big City.
An accomplished and prolific documentarian, John covers the couple's eight-year, potentially Quixotic quest in the delightful, harrowing, and truly inspiring The Biggest Little Farm. But, theirs is not just any kind of farm. The couple intended for their farm to be certified USDA Organic, a certification that comes with significant compromises. So, they also obtained Demeter Certified Biodynamic® certification, a much stricter approach to nature-based farming. The land they chose was virtually barren, the soil incapable of growing healthy trees and plants.
Yet, in addition to their own undaunted perseverance, the couple had two real-life angels supporting the realization of their farm which they named Apricot Lane Farms—'Allen' who was their Yoda, and 'Todd,' their magical dog. The film follows the gradual building of the farm through many accomplishments and a few demoralizing disasters, with lessons learned along the way.
Thanks to the Chesters, Apricot Lane Farms is much more than a farm. It is one of many beacons around the world calling human beings to eat and live with grace and health. In addition to visiting the farm, we can online order the farm's products.
The film also features gorgeous music by the legendary Jeff Beal.
The Biggest Little Farm is a not-to-be missed wonderful film.
You can secure the film on Blu-ray, DVD, or Digital directly from this Page from film's website. Or, you may purchase a public screening license to organize and host your own screening of The Biggest Little Farm at the venue of your choice (25+ guests). This includes schools, libraries, community centers, workplaces and—of course—farms!