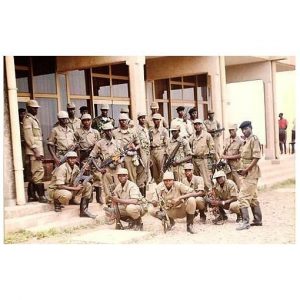 "We are alive because God used them to rescue us. And they had the passion to that we would live again. That is the pleasure that we have, and we are thankful for that." Survivor of Rwandan genocide.
The 'them' in this grateful survivor's statement is a battalion of 600 Rwandan soldiers who saved countless lives and were instrumental in ending the carnage. The soldiers were part of a movement to bring lasting peace to the nation. The military facet of this movement was known as the Rwanda Patriotic Army (R.P.A.).
The context for this story is the long-standing conflict between two tribes: Hutu and Tutsi. There had already been smaller scale genocides of Tutsi prior to the massive 1994 horror.
At the beginning of this genocide in April of 1994, peace talks had broken down, the R.P.A. soldiers were trapped in Kigali, Rwanda's capital. They had been stationed there to support the planned peace talks. Through equally heart rending and inspiring interviews, The 600 tells several stories of how these soldiers defied astronomical odds, saved thousands of lives, and helped to end the intractable enmity between the two tribes.
The 600 is a war film, of course, but it is primarily about the victims and the noble soldiers. The viewing is a visceral experience. We are with the interviewees as they vividly relive the fear, pain, loss, and grief they experienced in the past, and that they may still experience now.
Executive Producer and writer Richard Hall, Co-Executive Producer Annette Uwizeye, and Director/Cinematographer Laurent Basset have produced a documentary masterpiece in every respect, telling a story of heroism and sacrifice that transformed a nation.