"The more that I have tried to put my hand into it, and tried to control it, the longer I have prolonged him getting help. My big mistake has been trying to circumvent the suffering." Sandra Luckow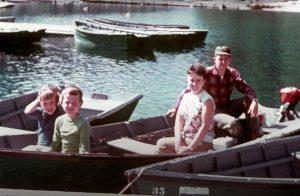 With That Way Madness Lies… filmmaker Sandra Luckow tells the epic, tragic, heart-breaking story of her brother Duanne's struggle with mental illness. In doing so Luckow has provided another indictment of the United States' failed healthcare system.
Born into a family of highly talented and skilled people, self-taught Duanne restored classic cars—amongst many other abilities. At some point in his adulthood Duanne began a nonstop descent into delusion and paranoia. By virtue of the Luckow family culture's inclusion of audio and video recordings of their activities, sister Sandra has produced a moving documentary of brother Duanne's life and illness—and her attempts to help him. The vast majority of the film's cinematography are by sister and brother.
We are all psychologists, we each have ideas about how us humans work. It is inevitable, therefore, that Luckow's viewers will ponder the genesis of Duanne's mental illness. However compelling it is to ruminate about those possible causes, it is ultimately a distraction and a fool's errand to seriously seek the answer from a film.
Instead, we have a story of loss, and of a sister's epic endeavors to find help for her brother, and peace for herself.
A First Run Features release, That Way Madness Lies… was selected for showings at 14 film festivals, and won well-deserved prizes from four of them.