This is the documentary I've been waiting years for. The headlines about obesity and its related diseases have appeared frequently over the last few decades, but sugar's role in this never-ending public health crisis has not received the attention it deserves. And when cities make a limp, futile effort to address the problem by reducing the size of soft drink cups, the move receives the well-deserved satirist's ridicule.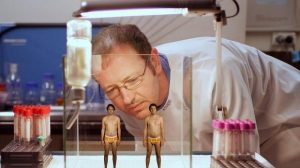 Australian Damon Gameau has taken up the cause with his "That Sugar Film".
Gameau was living with an enviable healthy diet—no sugar, no processed food. His project was simple. He joined the crowd and consumed the average amount of sugar the average Australian consumes daily (40 teaspoons), and did this for two months.
But, there's a twist. He lived on foods thought of as healthy—low fat yoghurt, muesli bars, juices and cereals. His Australian gastronomical adventure included a visit to the United States. Although it was a bit of a struggle for him to consume the 40 teaspoon equivalency daily in Australia, it was very easy in the U.S. One Jamba Juice practically took care of the entire 40 teaspoon dose.
Gameau assembled a team of professionals to monitor his body and mind before, during, and after his 'experiment.'
The youthful and charming filmmaker uses his experiment as a means to make the point that we are damaging ourselves daily with our diet, and he does so quite effectively. I imagine the vast majority of viewers will make some measure of change in their diet after seeing his film.
I add that even if you are horrified at your own or society's diet, it's much worse than Gameau presents. His focus is on sucrose and fructose—and that includes 'high fructose corn syrup.' All carbohydrates contribute to our dietary woes. When we eat more carbs than we burn, they turn into some form of sugar in our bloodstream. Unburned sugar turns into fat—diabetes and cardiovascular disease ensue.
Like so many other documentary films, "That Sugar Film" needs to be seen by everyone—including kids. To find the film, simply go to its website.