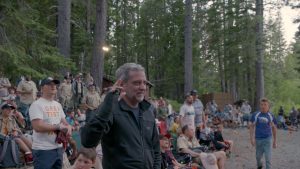 In March, 2018, Jason Reid and his wife were vacationing in Puerto Vallarta when they got the text and the call. Ryan, the youngest of their four children texted he was going to kill himself, and Reid's mother-in-law confirmed that their youngest son committed suicide at the age of 14.
Ryan hung himself in the attic of their upper-middle class home. His approach was particularly well thought out with separate notes for his mother, father, and three siblings. He emptied his smartphone except for one post: HELP.
Going through Ryan's room, Reid discovered a drawer with two separate short notes one of which contained only three words: 'Tell My Story.' The family was forever changed.
Directed and shot by David Freid, and produced by Philippe Diaz and Beth Portello, Tell My Story does just that. Only the story told is of the whole family, and of the ongoing tragedy of teen suicide. The film is a very powerful call to address and reduce teen suicide. Reid's specific goal is to end teen suicide by 2030.
Freid follows Reid as he travels the nation learning about and speaking about his personal experience and what he has learned about himself, his family, and teen suicide. We also hear directly from the family's three children as well as many other teens. Throughout the film we see clips of a joyful, playful Ryan Reid which are as endearing as they are gut-wrenching.
I whole heartedly suggest you see Tell My Story and that you consult the website's Resources Page. The more people who view this film, the fewer teen suicides we suffer.
Tell My Story is distributed by Cinema Libre Studio.
(Photo of Jason Reid participating at Camp Marin Sierra courtesy of Cinema Libre)