Adrian Grenier, the lead actor in HBO's long-running Entourage series, discovers his life, inevitably, imitating his art.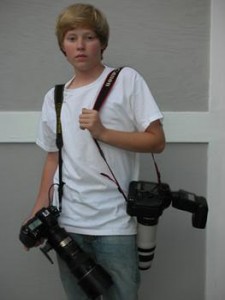 On his journey through celebrity-land Grenier has, inevitably again, become annoyed by and curious about the world of celebrity photographers – the ones with whom you don't have an appointment.
Everything in his wild and woolly world is normal – for a handsome rising star, that is – until one of his 'sprayings' (When a paparazzo sets their camera to automatically take several shots in a very short period of time, the verb 'to spray' is utilized to describe the phenomenon. 'I sprayed her,' or, 'I got sprayed.' With the flash on, the sprayee's eyesight is temporarily diminished or blinded. The metaphor to shooting a machine gun is noted.)
As Grenier's sight recovered, he noticed that the shooter was a young boy. "How old are you?" Grenier asked. "Thirteen," the boy answered.
Thus, a great documentary was born. Grenier decided to befriend this boy, Austin Visschedyk, to learn about the world of the paparazzi – and, especially, about how and why it is that a 13-year old prodigy has joined their small celebrity-hounding cult.
While providing a glimpse – as fascinating as it is disturbing – into the paparazzi world, Teenage Paparazzo profiles Visschedyk's work and character as well as the budding friendship between the teenage 'pap' and the risings star. The young boy becomes the star's teacher.
Because of Grenier's tenacity in this project, his consistent presence with nomadic groups of paparazzi, he, inevitably yet again, decides to walk a mile in the other side's shoes. Visschedyk helps him buy a 'starter camera', and the two go 'papping'.
But all this is simply the context for a much-more fascinating story – or stories. We see both Visschedyk and Grenier transformed by their friendship – they influence each other's view of the world, if not alter their respective destinies.
Grenier sprays his film with interviews of Visschedyk's parents, celebrities, journalists, magazine editors, paparazzi, psychologists, and academics.
The viewer is left to ponder issues of celebrity, the story of Austin and Adrian, and, especially, what will become of the young shooter.
http://www.teenagepaparazzo.com/