The cultural explosions of the legendary and now mythical sixties were too numerous and varied, too wide and deep to be captured in toto in any one documentary or narrative film. The best that can be done is to cover individual facets of the revolutions – and hopefully a body of work will eventually emerge to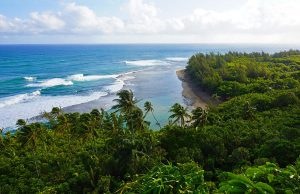 form a mosaic of the times.
Covering an individual facet is precisely what director Robert C. Stone and producer John Wehrheim have done with their thoroughly engaging, entertaining, and touching Taylor Camp which covers the 7 year history of a beach encampment on the north shore of Hawaii's Kauai.
Taylor Camp originated circa 1968. It began as a shoreline tract of land purchased by Howard Taylor – Elizabeth's brother. He had plans to build a home there, but the state had other plans. Partly in retaliation – or mostly, perhaps – he went to a Kauai jail, picked up 13 homeless young people who had been jailed, and brought them back to his land to live.
The film includes contemporary interviews of the campers who, together with stills and footage of the time, tell a few of the stories of Taylor Camp. The film's ending credits do as good a job of keeping our attention as they are peppered throughout with stills of each participant past and present – together with a brief description of what they do now.
In addition to its fascinating and moving stories, the film is a Blu-ray or 4K ready documentary with absolutely, utterly gorgeous footage of Kauai. Taylor Camp is a timeless film about a timeless time. I can't recommend it enough.