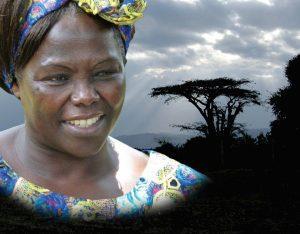 Taking Root tells the epic story of Kenya's Wangari Maathai who led a politico-environmental movement in her homeland—a movement that garnered Maathai global notoriety and the Nobel Prize.
Via their Marlboro Productions, filmmakers Lisa Merton and Alan Dater provide a broad outline of Kenya's history, then focus on Maathai's immeasurable impact on that history through her life-long activism. Via the National Council of Women of Kenya Maathai fostered an environmental movement called the green belt movement which is responsible for the planting of more than 51 million trees in Kenya. Her activism expanded beyond environmental issues.
Maathai's story is told by herself and several interviewees. Hers is an odyssey of discovery, heroic actions, struggle, revolution, and the sparking of social change in Kenya and beyond.
Merton and Dater have included many 'extras' in the film's DVD. I believe most extras on documentary film DVDs should be included within the film, integral to the story. That is to say, when you receive your Taking Root disc—which I heartily encourage you to do—view all the extras.
Memo to Hollywood: Maathai's story is so moving, harrowing, and gratifying, it is another documentary film that deserves narrative coverage for an international audience. Back in the day, that kind of coverage would be a movie. Now, we can tell Maathai's epic story through multiple episodes.
It is by accident that I discovered Taking Root and it is another must-see environmental documentary. In her note to me, filmmaker Merton reminded me of the phrase, 'evergreen'—a journalistic term referring to a story that will always be relevant. In this case, 'evergreen' is a double entendre.