Produced and directed by San Francisco filmmaker Jennifer M. Kroot, To Be Takei is both a profile and biography of actor/activist George Takei.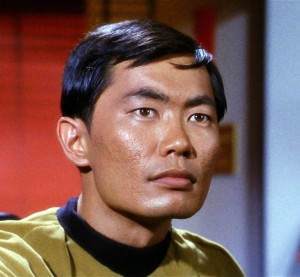 I never cease to be amazed by how much information – and entertainment – a talented filmmaker can weave into a 90-minute film. Kroot's film is no exception.
In that short period of time we see and hear Takei and his husband Brad in their day-to-day lives, we learn an outline of Takei's personal and professional biographies, and we are touched and moved by Takei's activism. A champion of human rights, Takei advocates for Japanese Americans who were horrifically victimized in World War II by the American government and people – because of nothing more than how they appear.
Amongst the many stories Kroot tells in her film is the creation and production of Allegiance, a semi-autobiographical musical play about the internment of Japanese Americans in World War II.
But don't get me wrong. Kroot's film is as fun as it is serious, as reverential as it is whimsical. Takei is totally charming, exudes positivity, has a great sense of humor, and at age 77 continues his performing and public advocacy non-stop. His presence in popular culture has become ubiquitous – has Facebook page has 7,797,636  Likes.
http://tobetakei.com/
http://www.allegiancemusical.com/