Take Alan Arkin's black comedy Little Murders, mix it with Peter Weir's dark drama The Mosquito Coast, add a large shovel-full of reality, and you've got Doug Pray's documentary, Surfwise—about the life, times, and cult of physician Dorian Paskowitz.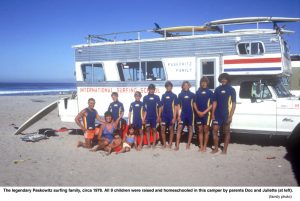 Pray examines Doctor Paskowitz's life from childhood, through physician-hood, through bohemia-land, into pioneering surfer, and then into…. a marriage.
Paskowitz incorporates this marriage into his nomadic surfing lifestyle and proceeds to father eight sons and one daughter.
Like the lead character from The Who's Tommy, Paskowitz requires all his children to do what he does—in this case, learn and practice surfing, instead of playing pinball.
Transporting and raising his nine children in a 24 foot camper, Paskowitz strictly, sternly imposes his values and practices on his children, forming a micro-cult which garners minor celebrity within the surfing world. He is a dictator—equally malevolent and benevolent. The malevolence, though, never seems to occur to him.
The seeds of the cult's destruction are sown at the beginning, of course. Children—given enough food, water, and shelter—tend grow up and leave home.
Although the children live through the kind of character arcs and transformations one finds in good stories and life, Dorian Paskowitz magnificently, fascinatingly never changes.
Eighty-four at the time of the film's production, Paskowitz is quite active, fully lucid, and living the principles of life he espoused for so many decades. Consequently we learn as much about him directly from the source as we do from interviews of and information about his siblings, wife and children. His raw personal power is evident at this late age; his thoughts and passions clearly articulated.
I'd never been so immediately and thoroughly engaged by a documentary as I was by Surfwise. Doug Pray has done a masterful job of telling a truly epic story featuring a daunting number of characters.
Surfwise is a jaw-dropping documentary that immediately entered my best-of list.
Note: When I saw this film, I knew it had to be remade as a narrative. There have been reported attempts to green-light the film—but, not surprisingly, what's left of the family cannot agree on the terms.