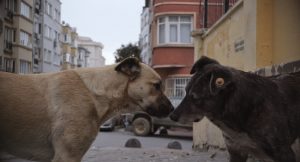 Preamble: On December 7, 2017, I posted my review of 'Kedi'—a documentary film about the stray cats of Istanbul. I love animals, and am delighted to share my review of Elizabeth Lo's Stray about the stray dogs of Istanbul. As a lover of our natural world which includes, of course, cats and dogs, I am deeply concerned about animals who are not cared for. Stray however, shines a measure of hope for the dogs of Istanbul.
Turkey has a national policy of no-kill and no-capture towards all its stray animals. The City of Istanbul has approximately 130,000 stray dogs. This was not always the case. For decades Turkey practiced mass killings of strays. However, in June, 2004, the Turkish government passed a law requiring local governments to rehabilitate street animals rather than kill them. It requires the animals be sterilized, vaccinated, tagged, and taken back to the place where they were found.
In Stray, filmmaker Elizabeth Lo follows several of these stray dogs. There is no narration. None is needed. There is occasional text, but the dogs tell the story as we follow their lives on the streets and other places. Zeytin, a large, short-haired tan female is the film's host.
Zeytin takes viewers on a tour of Istanbul including, of course, many stray dogs—and a few stray people some of whom take care of dogs they find and fancy. The film evokes pathos, hope, concern for the dogs, and fascination with this hybrid dogs/people world.
Composer Ali Helnwein provides the film's beautiful, elegant music.
A Magnolia Pictures release, Stray is an incredible, noble, and deeply from-the-heart cinematic achievement.
I encourage readers to visit Elizabeth Lo's Website to learn about her moving body of work, and to read this Interview of the filmmaker.