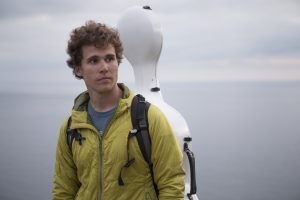 Triston Cook's first feature documentary—Strangers on this Earth—introduces the uninitiated viewer to El Camino de Santiago, a UNESCO World History Site. This 500 mile walking path—or pilgrimage, depending on one's beliefs—is located in northern Spain.
The film also introduces cellist Dane Johansen, one of the film's producers, and one of several walkers featured in the film. Johansen serves as an unofficial host of the documentary, and provides the film's music—solo cello, of course. Johansen carries his cello in a large white container on his back, providing concert performances along the way.
Johansen and his walking peers share their thoughts about the Camino—especially its meaning and impact on their lives. After hearing so many ideas about the walk, one may conclude completing this trek is a metaphor for an entire life lived.
While hearing all the voices, and listening to Johansen's music, Cook provides dramatic and beatific visuals of people, and, especially, places throughout northern Spain. I was jealous of all the wind farms Spain has installed, wishing Quixotically that our nation would be so conscientious.
Caution: Many viewers will likely consider walking the Camino, pondering life, death, God, spirit, and blisters.
Strangers on this Earth is a First Run Features release.
(Photo of Dane Johansen by Kayla Arend—courtesy of 'Strangers on this Earth')