Roy W. Dean Grant Spring 2014 Finalists
Since 1992, From the Heart Productions has supported filmmakers with cash and substantial professional discounts from our film industry partners, averaging an estimated $30,000 per filmmaker.  The Roy W. Dean grants program, with several annual deadlines, has grown into one of the most sought after competitions in the world.
 Its Roy W. Dean Grant funds unique films that make a contribution to society.  It gives filmmakers with great stories, told with passion, the funding to get their projects started or completed.
Roy W. Dean 2015 Spring Grants are now being accepted! Deadline: April 30th

Spring 2014 Finalists
*Winner in Gold. Top 5 Finalists in Red.
| | | | | |
| --- | --- | --- | --- | --- |
| | Film Name | Genre | Filmmaker | Description |
| | Sands of Silence | Doc | Chelo Alvarez-Stehle | In her 15-year quest to expose global sexual exploitation and trafficking, the filmmaker discovers that the roots of her quest lie buried in her own childhood experiences. |
| | That's Crazy | Doc | Lise Zumwalt | Crazy explores involuntary commitment documenting the story of a young man diagnosed schizophrenic who challenges local mental health laws by quitting his meds. |
| | Mary and Louise | Short | Amy Staats | After failing miserably on the set of their first "Talkie" Mary Pickford and Louise Brooks vow never to speak again. |
| | Union | Feature | Whitney Hamilton | A woman takes on her dead brother's identity to survive in the Confederate ranks during the Civil War; marrying a widow that saves her life. |
| | A Secret Legacy | Doc | Sandra Alvarez | This is the story that the CIA does not want you to know.  Will my family's determination to learn the truth about my grandfather uncover their secret? |
| | Lobster Fra Diavolo | Short | Jane Barbara | Lobster pits formidable 80 year old Nonna against a lobster who does not intend to end up as the main ingredient in the pasta dish. |
| | Letter From Cloudcroft | Doc | Melinda Hess & Patricia Antelles | An unopened 1946 letter begins a daughter's journey uncovering her Jewish father's past and reveals a nation's hidden history linking the Holocaust with the U.S. space program. |
| | The Turn Out | Feature | Pearl Gluck | A trucker comes to the excruciating realization that he is a big part of a truck stop sex trafficking ring when he engages with an underage victim. |
| | 39 ½ | Feature | Kara Herold | 39 ½ mixes drama laced with irony, documentary elements, and animation to follow a single female filmmaker approaching 40 determined to have a child. |
| | The Passionate Pursuits of Angela Bowen |  Doc |  Jennifer Abod | From inner city streets to prestigious universities, a passionate dancer and activist, confronts racism, sexism and homophobia transforming not only her own life, but the lives of those around her. |
| | A Tale of Kids and Kale | Doc | Pamela Preston | Utilizing local resources, feeding kids healthy food,  elevating women in the community. |
| | Belly of the Beast | Doc | Erika Cohn | The significance of "Belly of the Beast" lies in the banality of the evil it exposes, intimately chronicling the journey of women fighting reproductive injustice in their communities. |
| | BRICK | Doc | Kate Barry | BRICK explores the raw emotional and physical experience of being a middle aged, senior transgender woman against the backdrop of post-industrial logging town in the Pacific Northwest. |
| | Tuesday Lunch | Doc | Diane Stark | Long Island women activists meeting for a Tuesday lunch in 1969 forge a 45-year friendship that tests and sustains them as they age. |
| | The Brainwashing of My Dad | Doc | Jen Senko | A filmmaker examines the rise of the right-wing media through the lens of her father, whose immersion in it radicalized him and rocked the foundation of their family. |
| | Peanut Gallery | Feature | Molly Gandour | Molly, age 26, returns to her home to talk to her parents about a subject they've never really discussed: her sister's death, sixteen years earlier. |
| | Angel Light Documentary | Doc | Stephanie Angel | Ten children with brain tumors join forces to change stereotypes about sickness, shining their unique light in this word as they co- create a documentary film. |
| | Bloodline | Feature | Ana Lazarevic | Following the death of her parents, a young woman stirs for a fresh start, but cannot escape the haunting ties of her bloodline. |
| | Generation Zapped |  Doc | Sabine El Germayel & Carolyn Chen | A solution oriented feature length documentary exposing the alarming health hazards of our wireless age. |
| | Baddest Disease on the Planet: The Real Stories of Diabetes |  Doc | Allan Piper | With diabetes now killing more people than AIDS and breast cancer combined, the grandson of one of insulin's pioneers goes on a mission to uncover the real stories of an under-reported epidemic. |
| | Growing Up |  Doc | William Mann | Healthy, Organic food on your doorstep and a step closer to global food security. |
Spring Grant 2014 Winner!
The Brainwashing of My Dad
BY Jen Senko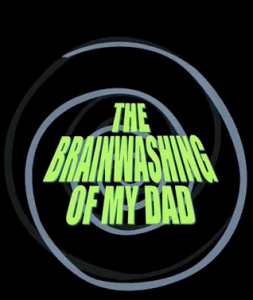 As filmmaker, Jen Senko, tries to understand the transformation of her father from a non political, life-long Democrat to an angry, Right-Wing fanatic, she uncovers the forces behind the media that changed him completely: a plan by Roger Ailes under Nixon for a media takeover by the GOP, The Powell Memo urging business leaders to influence institutions of public opinion, especially the universities, the media and the courts, and under Reagan, the dismantling of the Fairness Doctrine. As her journey continues, we discover that her father is part of a much broader demographic, and that the story is one that affects us all. Through interviews with media luminaries, cognitive linguists, grassroots activist groups such as: such as Noam Chomsky, Steve Rendall, Jeff Cohen, Eric Boehlert, George Lakoff, STOP RUSH, HearYourselfThink and others, "Brainwashing" unravels the plan to shift the country to the Right over the last 30 years, largely through media manipulation. The result has lead to fewer voices, less diversity of opinion, massive intentional misinformation and greater division of our country. This documentary will shine a light on how it happened (and is still happening) and lead to questions about who owns the airwaves, what rights we have as listeners/watchers and what responsibility does our government have to keep the airwaves truly fair, accurate and accountable to the truth.
Roy W. Dean Spring Previous Grant Winners
2014 – Jen Senko for The Brainwashing of My Dad
2013 – Helen Hall for Pictures of Infinity
2012 – Suzanne Mitchell for Running Wild
2011 – Beth Harrington for The Winding Stream
2010 – Cathryne Czubek for A Girl & A Gun
2009 – Chad A. Stevens for Coal War
2008 – Melissa Montero for Our Women Our Struggle
2007 – Shawn Batey for The Changing Face of Harlem
2006 – Alice Hurwitz & Jeff Morgan for Lilly & Leander, A Legacy of Violence
2005 – Eric Gottlieb for Wakefield Convicted, Sentenced to Die
2004 – Muriel Stockdale for NYC Spirit
2003 – Rebecca Dreyfus for Stolen