Looking for a film that takes you to a place you've never been, presented a world you never conceived? You found it.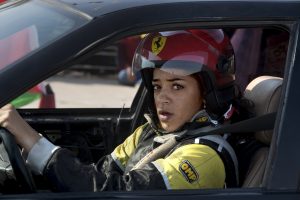 With Speed Sisters director Amber Fares and crew take us to Palestine, and introduces the first all-woman car racing team in the Arab world. I can't speak for you, but I confess my preconceptions were seriously damaged.
The five women racers don't wear headscarves, or any of the attire associated with women Muslims presented in our media. That is, these women appear and sound quite Western—and they have a visceral passion for racing small automobiles on demanding tracks. Over the years they've developed a significant fan-base of males who attend the races.
Having broken through cultural barriers, the five women are still subject to the human frailty of organizational corruption. Their races are sanctioned by the Palestinian Racing Federation which seems to consist of one dude who makes up the rules on the fly—and is not swayed by logic or compassion.
The film follows the courageous women through two seasons of races, and spends time with them at home, on city streets, in stores, and struggling with the challenges of going to and from Israel—watch out for those flying tear gas canisters.
This may be the first time you've heard of female race drivers in the Arab world, but it is not your last. The women have already broken into international racing circuits.
A First Run Features release, Speed Sisters is delightful and inspiring. When you find yourself in Palestine, you will find plenty of cultural institutions reminiscent of home. For instance, it seems as if there is a 'Stars and Bucks' café on every street.