Southern Rites is a hard-hitting, heart-tugging look at race relations in the American south. Although the film takes place in this region, it is a glimpse of both troubled and changing race relations throughout the United States.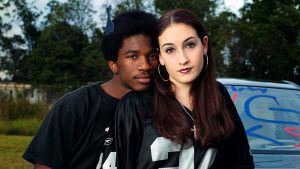 Photographer/filmmaker Gillian Laub covers three stories set in Georgia's Montgomery County and its county seat, Mt. Vernon: The integration of a high school prom, the candidacy of the first African American for sheriff, and the killing of a black teenager by a white man.
With the painfully frequent saturation media coverage of white-on-black killings as well as deep-rooted institutionalized racism in the United States, it may be easy to avoid seeing another film, more stories about racism. And, yes, we've seen it all before. But, it is the intimacy, the intricacy of the lives and relations of those who people these stories so well captured by Laub and that are indelibly are etched in the viewer's memory and heart that make this film highly recommended.
In addition to telling these powerful, moving, and haunting stories, Laub and company do so with superb craftsmanship and a delicate touch. The filmmakers do much more than simply tell stories, they provide a sense of place, of the atmosphere that cradles or traps these characters' lives.
"Southern Rites" is an HBO documentary.
http://www.southernritesproject.com/