There are soooo many great documentary films that should be seen by everybody, and somewhere between is one of them.
Some documentaries include introductory text. Here's this film's: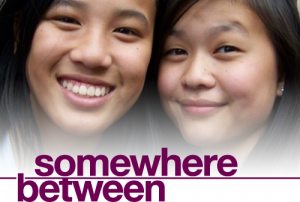 "China's 'One Child Policy' was implemented in 1979. As a result, hundreds of thousands of babies were abandoned, mostly girls.175,000 live in countries worldwide. 80,000 live in the U.S., in all 50 states. It is exceptionally rare to find any information about their pasts."
Accomplished filmmaker Linda Goldstein Knowlton tells of the genesis of her film:
"My daughter's name is Ruby Goldstein Knowlton. She's seven. When my husband and I adopted her from China, we had no idea what lay ahead.  We became a family in an instant. But as I began to think about Ruby's future, I started to wonder how her coming of age would differ from mine. I began talking to older girls who had been adopted from China and brought to the U.S., and plunged into a world not just of identity, but of what it means to be who we are."
Knowlton follows four teenage adoptees as they struggle with their identity and their past – as well as their American adolescence. As the girls' lives and characters are revealed, so are the depth and power of Knowlton's film.
In addition to the United States, we spend quite a bit of time in China, as well as other nations.
The film's image and sound are of top quality. The story-telling is totally engaging. And you will need a box of tissues to see yourself through the emotional roller coaster that is this film, that is these girls' lives.
Like many documentary films, somewhere between is a timeless story, and will always be relevant. I reiterate: It is a film for everyone.
The commercial DVD I viewed contained an additional disc, "Beyond Somewhere Between", a 44-minute 'bonus' film.
http://www.somewherebetweenmovie.com/