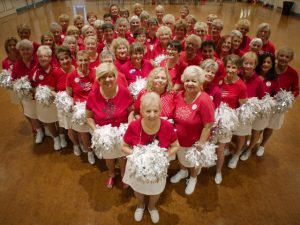 Lance Oppenheim's Some Kind of Heaven starts out with a ballet of eight golf carts being directed by an elderly woman with a wireless microphone and a loud speaker. Following the ballet is a brief shot of a large rowboat driven by ten elderly rowers with the master rower at the back encouraging his charges, and following that is a very large swimming pool with a water ballet of eight elderly female swimmers also with their own director.
Welcome to Florida's 'The Villages'—also known as 'Disney World for Adults.' The above activities are just the tip of the very large iceberg of activities for the retirement community's 130,000 residents. Movies—both documentaries and narratives—take us to places we've never seen, or, in this case, never even conceived. For almost all viewers, this is a new place. As I viewed the film I kept wondering: How is such a place managed? However, that question is, understandably, not addressed.
Instead, we spend our movie time going throughout much of The Villages, and spending quality time with four residents: Anne Kincer, husband Reggie Kincer, Barbara Lochiatto, and Dennis Dean. Each has their charms and their life challenges.
The world of The Villages evokes almost immediate socio-politico considerations and criticisms. Yet, being an elder, I had to consider what would it be like to live in this world. Of course, it would not be practical, but, still, I want to interview somebody there about: How do you manage this place?! In any case, Oppenheim and company focus on the personal stories of the above four retirees.
Some Kind of Heaven is distributed by Magnolia Pictures, is currently playing in theaters, and will be available On Demand on January 15.
Facebook