SlingShot is a profile of inventor/entrepreneur Dean Kamen and the story of his development of SlingShot—a portable, high-efficiency distiller which produces clean water from dirty water.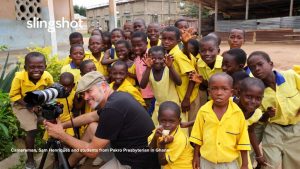 Veteran writer/producer/director Paul Lazarus presents Kamen as a man with a brilliant mind, a noble heart, and one who has garnered great wealth from his efforts. But, as the title indicates, the focus is on Kamen's water machine.
His distiller was conceived and developed to address the water crisis in impoverished regions where clean water is hard to find—and, as we've recently learned in the United States, even the wealthiest nations may lack clean water.
But, I digress.
Lazarus covers the painful and fruitful process of SlingShot's development—multiple iterations as the developers struggle to lower its weight, size, cost, and to increase its efficiency. Even more challenging is the securing of global distribution.
The film ends on a hopeful note: Coca Cola has the resources to get SlingShots to many, if not most, of the regions of the world beset by a lack of clean water. As of this writing, it is not clear that this agreement will be executed by the Coca Cola company.
A Personal Note: I applaud all environmental efforts to create a cleaner, healthier world. I've seen hundreds of documentary films and television shows revealing an ecosphere being rapidly destroyed, while featuring various endeavors—more often possible endeavors—attempting to mitigate this destruction. The endeavors make sense, yet the ongoing destruction is an ongoing global tragedy.
It is not clear at this moment if our efforts to reverse our destruction will be successful—hence, the many decades of books, comic books, graphic novels, television shows, movies, webisodes, and social media posts depicting a post-apocalyptic world.
There is one environmental issue that is virtually ignored by all media, all leaders, and all of us—human over-population. For every environmental media project I view I wonder how the current or proposed efforts presented can make a difference as long as our human population continues its geometric expansion on the Earth.
The word 'animals' is absent from SlingShot. Non-human animals are also victims of a paucity of water. Yes, their bodies have adapted to unclean water, but the elimination of massive numbers of species by human beings continues—which, in turn, contributes to further environmental degradation.
The SlingShot holds a potential to save millions of human lives. What will be the environmental impact? What effects will this much larger number of people on our Earth be on our ecosphere? How will this expansion impact the quality of life for all who survive? The most painful question is: How many lives will be lost by virtue of all the lives saved?
War, strife, poverty, crime, disease, famine, malnutrition. These are nature's ways of mitigating over-population.
There are humane ways to reduce our human population. For instance: female literacy.
All this is not to discourage you to see SlingShot. It is an important film, Dean Kamen deserves acknowledgements for his many contributions to our world through his company, DEKA. I hope one day he will focus his brilliant mind on humane ways to reduce our human population.
Facebook