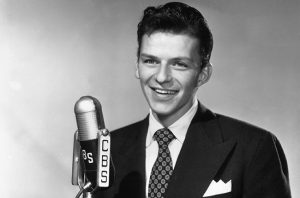 Why should I watch another film about Frank Sinatra?!
That was my very first thought when I saw the title "Sinatra: All Or Nothing At All" on HBO's documentary schedule. I had no intention to see this film.
But then, independent film icon Carole Dean suggested I see it. I listen to Carole.
And it happened again—almost predictably. After the first two minutes of this revealing and respectful view of Sinatra's life and character I was hooked. By film's end I was in that quiet, stunned, overwhelmed mood I get at the end of an epic story about a complex, multi-layered personality.
I wasn't surprised. Under Sheila Nevins, HBO's docs have set a high standard. Nor was I surprised when I discovered that Documentary God Alex Gibney is the film's director. There is no want of many more power players in the film's credits.
Yes, we know most—if not all—of Sinatra's plot points, his challenges and debacles, his music and triumphs. But it is the details that reveal whatever biases and myths we may hold about Frank Sinatra that make the film captivating, details that may transform our attitude toward this icon from a bygone era.
I found myself paying attention to his singing. The filmmakers provide a sonic cornucopia of Sinatra's performances—many from very early in his career. The film elevated my appreciation of his performance abilities, and, of course, I bemoaned his cigarette smoking. Without that damage how much more of his talent would he have experienced and shared?
Even at four hours long, the adage applies—Leave Them Wanting More. It is glaringly obvious, the great number of untold stories within the stories we see in this film.
Thank you Carole Dean for gently suggesting I see this film.
Check out "Sinatra: All Or Nothing At All" on HBO!