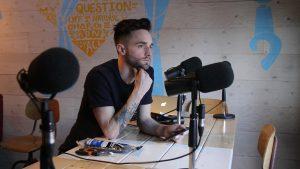 "Until that expiring day comes, I'm not going to stop. Not until we make more people realize that laughing at a disease takes away its power. If you really sit, and actually think about that, it can have some pretty profound effects on how the way you live your life." Jeremie Saunders
Jeremie Saunders has cystic fibrosis, a terminal disease. He is living way beyond his predicted 'expiring day.' Together with friends Brian Stever, and Taylor MacGillivary, Saunders created a podcast called, of course, Sickboy.
In Sickboy director Andrew MacCormack tells Saunders' personal story, and follows the painful creation and eventual success of their daring enterprise. Saunders is the virtual host of the film.
The Sickboy podcast features guests with various and sundry maladies some of which are terminal. Each podcast consists of the three young men interviewing a guest who has a disease. As the podcasters interview the guest, they tell their story, and how they came to grips with their illness.
Sickboy is fully engaging, inspiring, and—if you don't have a heart of glass—tear-jerking. Beyond that, the film is something to give all of us with chronic and/or terminal diseases more ways to think about our illness which, as Saunders' states, "can have some pretty profound effects" on your life.
Sickboy is available in the United States at: https://fuse.tv/shows/sickboy/full-documentary
This link to the film only works in Canada at: https://www.youtube.com/watch?v=DfGbxO-1cCw
Sickboy is produced by Dream Street Pictures.
(Pictured: Jeremie Saunders)