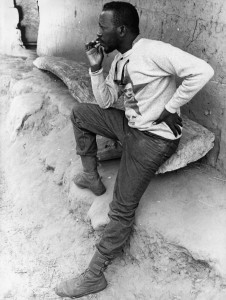 Written, produced, and directed by Samba Gadjigo and Jason Silverman, Sembène! is the biographical documentary about Ousmane Sembène (1923-2007) who, as the subtitle states, is the father of African cinema.
Born, raised, and based in Senegal,  Sembène produced feature films of, by, and for Africans. Given the films featured in the documentary, it seems as if all of Sembène's stories focused on social, economic, and political issues. This focus on issue-based films added to the already-daunting challenges of funding, producing, and distribution of feature films.
Sembène! follows our hero from uneducated, migrant worker to the educated, talented, courageous filmmaker (and novelist) who achieved global recognition for his role in film history. Much of Sembène's story is told via the powerful on-screen presence of his biographer Samba Gadjigo.
The Kino Lorber DVD includes several bonus features: Making of "Moolaadé" (2005), Sembène for the People: Reflections from Angela Davis, Youssou N'Dour, Ngugi Wa Thiong'o, Cheikh Hamidou Kane, et.al., and 'Samba's Childhood.'