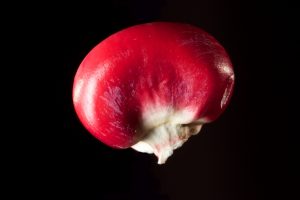 When Jon Betz and Taggart Siegel make a film, it is a must-see. They've given us The Real Dirt on Farmer John and Queen of the Sun—strong, hard-hitting films about agriculture.
Their latest, Seed: The Untold Story, is both inspiring and demoralizing.
The unhappy yet predictable aspect is the extent to which we have lost seeds. 94% of seed varieties disappeared in the 20th century. The film also covers the tragically successful attempt of corporations to take over life, to release a world-wide Frankenstein experiment via the dissemination and control of genetically modified seeds—which are uncontrollable due to wind, flying critters, and caprice. This monster has been attacking us and our world in one way or another since its creation.
Most of the film, however, is of the inspiring kind. Taggart and Betz profile several seed heroes fighting to save the non-GMO seeds we still have; fighting, too, against the Frankenfoods experiment. Another source of inspiration is the raw beauty of seeds—abstract art at its finest.
Like so many films I've seen, this is exemplary issue-based documentary filmmaking.
And, yes, it is a must-see.